By Chicken Fans Editorial Team 13 February, 2023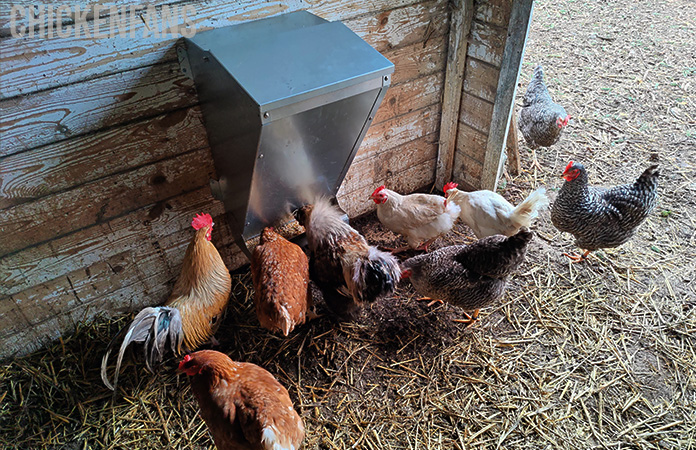 One of the essential aspects of chicken keeping is providing your flock with a constant supply of food and water. A large feeder that holds a substantial amount of feed reduces the frequency of refilling and saves you time as a farmer or homesteader. The Free Range Feeder chicken feeding system promises to do just that.
We took their feeder to the test and wrote a thorough review. Let's start with the main characteristics.
Free Range Feeder Chicken Feeder
The Free Range Feeder chicken feeder is a sturdy and robust feeder made from galvanized steel. Its simple yet convenient design makes it easy to use and will fit in with any chicken coop. Keep in mind the feeder is not waterproof and should be placed inside.
Overview
Raising chickens is a crucial aspect of (small) farming and homesteading, and it demands vigilant care to guarantee the birds' health. A reliable food and water supply is a vital aspect of chicken farming; high-quality products can help with that.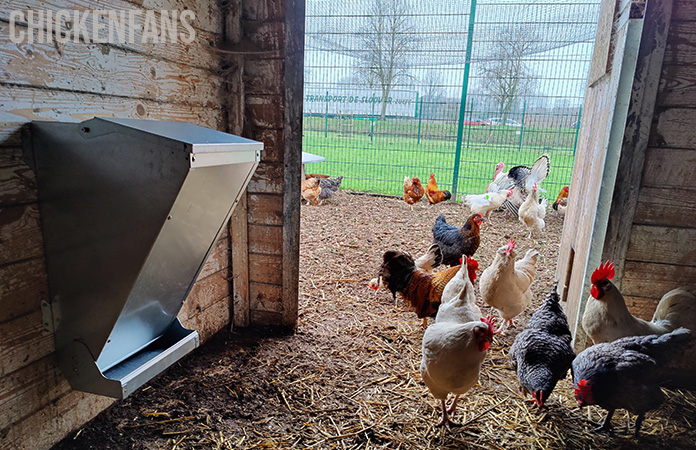 We tested the Free Range Feeder from Wiker Industries, made in the USA and distributed on the Free Range Feeder website and the McMurray Hatchery website. The feeder is made of high-quality galvanized steel, which makes it durable, rust-resistant, and long-lasting. According to the manufacturer, it's built to last a lifetime, saving you money and time.
It is important to note that the Free Range Feeder is not suitable for outdoor use, as it is not waterproof. While it is made from heavy-duty materials and features a lid, it is not designed to withstand heavy rain exposure. Mounting the feeder inside the coop or under a shed is recommended to ensure its proper functioning.
Design
The Free Range Feeder chicken feeder CF-0314 has a sturdy and robust appearance that is sure to impress. Its simple yet convenient design makes it easy to use and will fit in with any chicken coop. The feeder's design was developed with the needs of the small chicken flock owner in mind.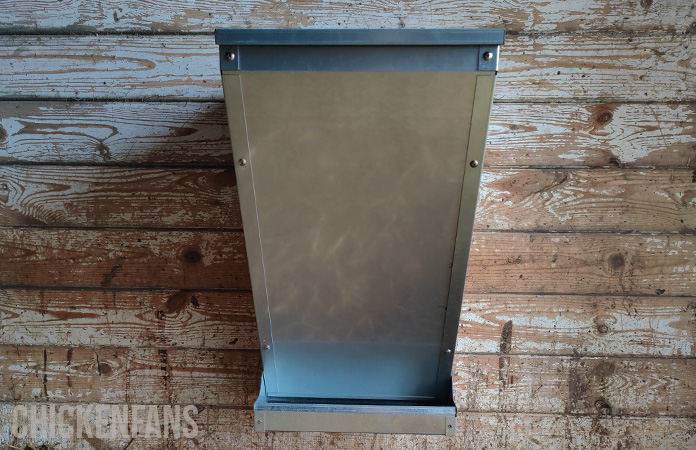 Galvanized steel feeders are considered to be a superior option for chicken farmers due to their durability, longevity, and resistance to pests. A simple design like the Free Range Feeder is also easy to clean, making removing old feed easier. Farmers can spend less time cleaning and more time focusing on other aspects of chicken farming.
Read the full review on chickenfans.com. Reprinted with permission.